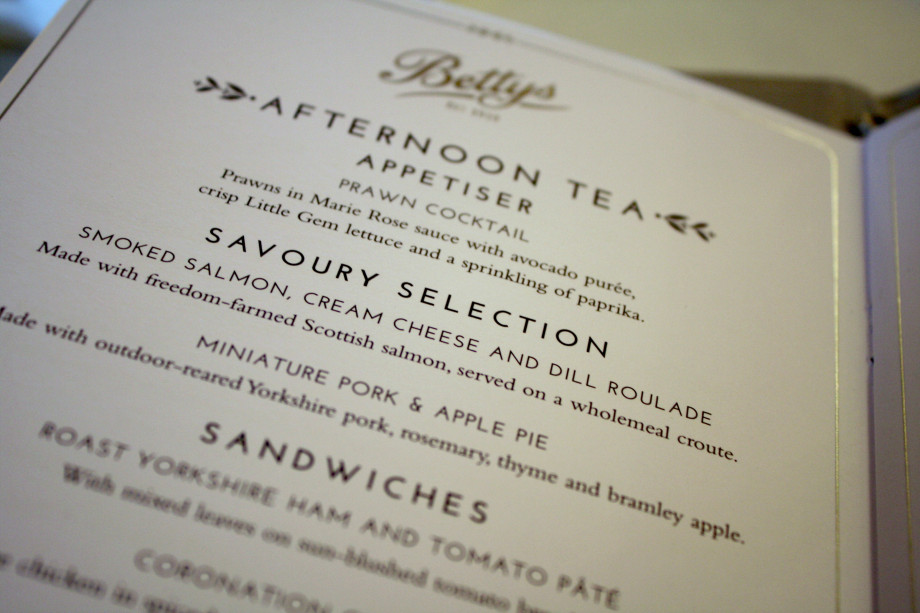 Betty's Tea Room is probably one of the bigger Yorkshire blogger goals; it's fancy, photogenic and involves cake and champagne so you can kind of see why. I was kindly invited down for a complimentary champagne afternoon tea for two a couple of weeks back so me and my extremely happy friend headed to Harrogate to check out the tea room over there.
After browsing Harrogate, a very pretty town might I say, we headed to Betty's. It's split into three; a downstairs sit down cafe you don't need reservations for, a shop, and the upstairs suite for afternoon tea. The decor is very fancy; I was wearing mom jeans, pretend Timberlands and my septum piercing so felt very out of place (not that the staff or anyone there even blinked an eye, mind!). We were sat down, had the menu explained to us and asked what champagne we'd like – I went for Kir Royale which was lovely, and my friend went for white. We also chose our first tea; pi lo chun green tea, and blue sapphire black tea. I'm more of a coffee girl so was grasping at straws choosing these if I'm honest!
Before the iconic cake stand came out, we were given a palate cleanser; a little shot glass of avocado puree with prawns which was absolutely delicious. If restaurants served full versions of this, I'd easily choose it as a starter. Palates cleansed, we were brought out everything. On the cake stand, there was a selection of three miniature sandwiches (two of each, and the option for more if we asked), two lavender and two sultana scones with clotted cream and jam, and a selection of miniature cakes and patisseries. We also both got a plate which had a small salmon blini and a slice of fancy pork pie.
To look at, I wouldn't say there was a lot of food. Everything looked delicious, and very Instagrammable, but I thought it would be a short lived experience. However, because you get unlimited tea, and it's such a fancy ambience in the tea room, we ended up chatting and trying different teas between each 'course', as well as a second glass of champagne, so ended up spending two hours nibbling and sipping away. By the time we had finished everything, we were both stuffed – food baby level.
The food
Aside from looking gorgeous, the food was really nice. The scones were unbelievable, and if I hadn't been so stuffed I would have bought some to take with me downstairs. I have already decided I will be back, simply to eat more scones! The sandwiches were nice, nothing spectacular



 in my opinion but the mini pork slice and avocado prawn thing more than made up for that, and the cakes were all gorgeous – we split each in half so we could try all the flavours, which lead to some messy plates!
The tea
Like I said, I'm not a huge tea girl – in fact, the blue sapphire tea is the first cup of black tea I've had in four years. If I'm honest, it reminded me why I'm a coffee person. Tea just doesn't have that much flavour for me! I ended on a peppermint tea to try aid my food baby (wishful thinking, ha) which was nice, and definitely a change from the peppermint clipper tea I normally go for!
The experience
Overall, I really enjoyed the champagne afternoon tea experience. It felt a bit fancy, a bit giggly, and not something I've ever done before. Whether it's something I'd do again, I'm not sure – with the second glass of champagne, the whole thing would have cost £48 which is a lot of money. It's a novelty I wouldn't necessarily pay for right now as I am forever skint, but in the future or for special occasions I could see myself going again. I will 100% be going back to Betty's even if it's not for the official afternoon tea, and I'd definitely recommend trying their scones and tea in the cafe room for a mini version if you can't justify paying for the real thing.