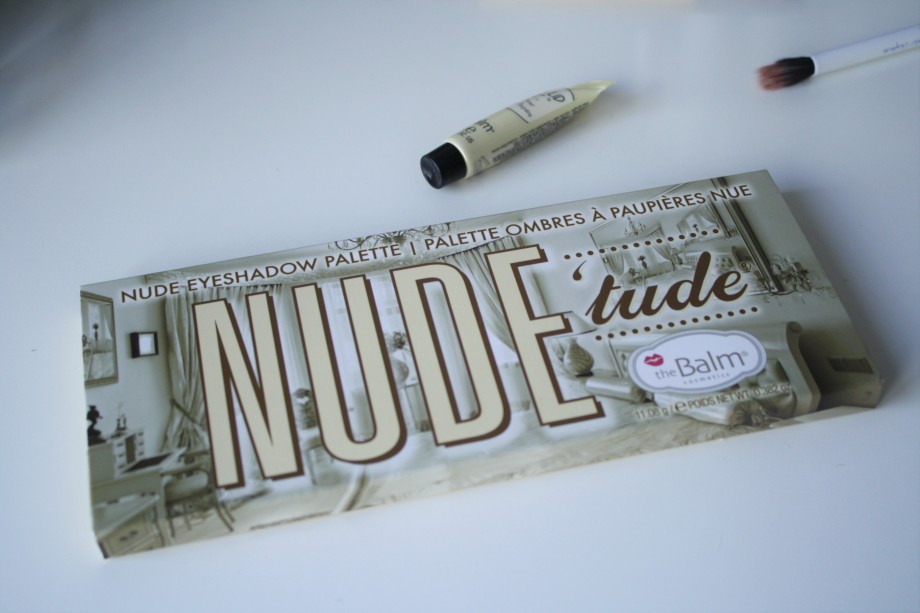 When I am skint (so a good 90% of the time), there is one shop I always try and avoid, and that is TK Maxx. Even though half of the products in there are secretly fake brands that TK Maxx has made to make it seem like they're giving you branded goods for less, there is usually a few good bargains, especially when it comes to beauty. The amount of times I've gone in, pretending I'm just going to browse, and headed straight to the makeup station where I've bought something I don't need purely because it's not full price… Well, let's not count shall we?
Out of everything I've got from TK Maxx, theBalm Nude'tude is probably the best (followed closely by Real Techniques brushes). It's a palette I'd considered in the past but didn't want to spend £30 on (ditto with the Naked palettes, and the reason why I've not been an owner of a full size high end palette until now). TK Maxx had these on offer for £15, which is actually more than affordable!
There are 12 shadows, ranging from bright shimmery white 'Sassy' to coal black 'Serious'. 'Sultry', 'Sexy' and 'Serious' are the three mattes, with the rest of the shades having a shimmer to them. The names are awesome; I 100% believe my personality is combined of at least seven of the shades, and it comes with a sample eye primer and double ended brush.
This is my first experience of theBalm and as far as quality goes, I'm definitely impressed. All the shadows are extremely soft and blendable, although depending on the quality of the brush used there can be a little fall out so I tap off any excess before using. It lasts forever (and by that I mean I have woken up hungover with pretty much perfect eyeshadow) and the pigment is all really good both with and without a primer, although 'Stubborn' is such a similar colour to my skin you can't really tell when I use it!
Sassy is actually perfect for using on the inside eye to brighten up your whole face, and the first eight shades all work for such a natural but gorgeous shadow. I'm a little scared to use the darkest four anywhere other than my lower lash line, on fear of my hooded eyes completely disappearing, but they'd make for a really bold look if you're brave enough.
I am definitely super impressed with the palette, and if I ever get out of the cycle of being viciously poor (aka spending all my money on gin and tapas and having none for real life), I would actually spend £30 on this.
Sorry for the lack of swatches by the way. I have a wrist tattoo I'm not keen on (too much YOLOing when I was 19) and to be honest I find holding the camera in a way I can photograph my other arm just hard. So you'll have to trust my honest opinion when I say you won't be disappointed if you pick up this palette (which you can do here for £22.50).