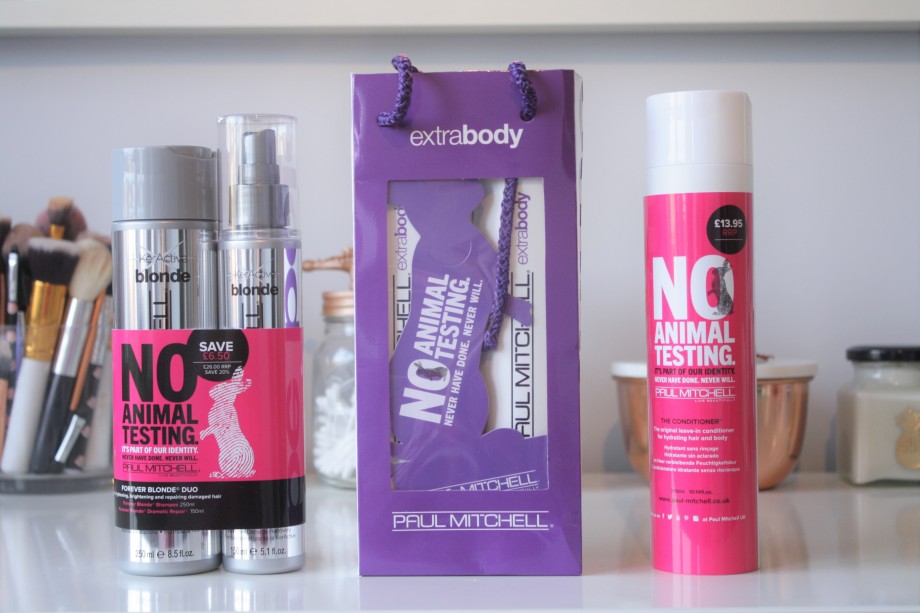 Many years of bleaching and straightening my hair has meant that I tend to use hair products which focus on repairing hair and adding in moisture. At one point, my hair was so damaged I used products meant for afro-Caribbean hair (seriously if your hair is super damaged, try it!).
Nowadays, I still prefer these kind of products but my hair isn't sooo damaged that it's the only type of ranges I look at. I am part of Paul Mitchell's Salon Success, which means every other month I am lucky enough to get sent some of the hair products from different brands they own (like, omg best collab ever tbh). The first box, I received Paul Mitchell's Extra Body Shampoo and Conditioner, as well as the Paul Mitchell Original Conditioner, Paul Mitchell Forever Blonde Shampoo and Forever Blonde Dramatic Repair.
I decided to switch up from my Redken products and try out the Extra Body range to see if I really needed products aimed at repairing hair.
Paul Mitchell Extra Body Daily Shampoo
Paraben free, vegan and colour safe, this shampoo is pretty much suitable for most people. I've mentioned in the past that I prefer to use sulphate free shampoos as I get quite a dry scalp, so I was worried about whether or not this shampoo would bring back the flakes, but I didn't have any problems using it, showing it's still cleaning gently. I did find my hair needed washing slightly more often using this than using sulphate free shampoos (so once every three days, four at a push, rather than four – five) but I doubt most people would find this an issue as you probably wash your hair more than me anyway.
Paul Mitchell Extra Body Daily Rinse
The name of this is confusing, but it's basically a really light conditioner which also clarifies and detangles. From the first wash, I noticed that my hair wasn't as smooth as when I used moisturising conditioners – I was quite worried actually while it was wet for the first time but once serumed and dried, you couldn't visibly tell. My hair definitely looked bigger when using this range, and it didn't go as flat quickly. Normally my hair has an okay amount of volume day one and two and then rapidly declines, whereas it stayed quite thick until hair wash day each week.
I was coping fine without products aimed at repairing hair until I got my hair lightened and refused to have it cut. Again. Oops. I actually ended up just cutting a good inch of hair off myself as I realised it was way too dry to look nice, and once doing that I could technically still get away with using the Extra Body range, but I think my hair deserves a period of TLC rather than volume, so I'm putting away this range for when it's in better condition (again).
Paul Mitchell Original The Conditioner
This is a leave in treatment rather than an actual conditioner (confusing), and apparently can be used as a moisturiser for skin as well. It's quite a light, silky texture and is easily absorbed by wet hair – I didn't find any issues with it leaving my hair greasy or heavy either which is always a worry when trying a new leave in.
The conditioner did help to keep my overall hair smooth without weighing it down, although the very ends could have benefitted from an oil or serum based leave in treatment, just for an extra boost.
Summary
These products are fab if you have hair which isn't excessively dry, and you want volume but a smooth finish. I think it is important to add moisture to your hair even if it's not really damaged, so I'd invest in an intensive mask to use alongside the range personally, but overall yeah I'm impressed with these products.
Right now, my hair needs a bit less volume, and a bit more TLC so I'm currently trying the a mixture of the Forever Blonde products (to keep it new and shiny) and a new range I've been sent called Marula Oil. Once the condition is back up to scratch, I'll bring these back in for some oomph.
If you want to buy Paul Mitchell products, they recommend doing so from a salon, but you can browse their products here.