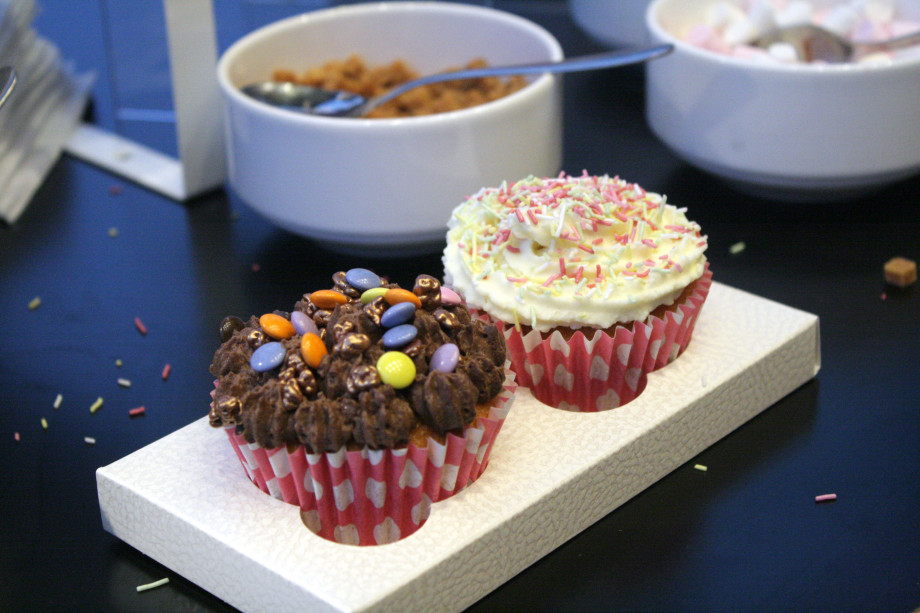 I don't mean to blow my own horn but I am fab at making cakes. I was the dedicated cake maker at university and I always made delicious cakes. Delicious but pretty ugly. Turns out cake decoration isn't my thing, which is saying it nicely if I'm honest. I tried my hand at making cupcake swirl top things once and it looked like actual poo, but in pastel colours. Tasty pastel poo. Although, I actually once managed these rather delicious looking things at the M&S Food Press Show I went to a while ago.
I would like to be able to make nice looking cakes without professional help, as I sometimes bake for work (mostly when I want cake myself at the weekends but can't be bothered to divide the ingredients) so when Renshaw Baking sent me over this tutorial for cute little animal toppers I was surprised how easy they looked to do. I think even I could make them, and I will be giving these ago next weekend. Sadly not this weekend because mine and Scott's parents are meeting for the first time (scary!) so I'm otherwise preoccupied. Also, I'm getting a brand new sparkly Surface Pro 3 tomorrow and I'll probably be glued to it all Sunday. EEP.
Anyway, if you want to try out making these different toppers here's the know how. Let me know if you give them a go, send me a picture or even better, send me a cake. The cow is my favourite, which is yours?
You'll need…
• Fondant icing (black, white, pink, yellow and orange)
• A circle cookie cutter
• A large and small crinkled cookie cutter (for the sheep)
• Small round plunger cutter
• Ball end tool
• Sharp knife
The Chick
• Dust the surface with some icing sugar
• Knead and roll out some yellow fondant so it's around 3mm thick
• Cut out a circle with your circle cutter
• Use a sharp knife to cut two petal shapes for the wings, or use the edge of the circle cutter and overlap it to make them
• Boil some water and let it cool slightly before wetting the wings, as this makes it sticky enough to attach to the body
• Take a little bit of orange icing and roll it in your hands until it's soft enough to work with, then flatten it and cut three small triangles from it to create the feet and beak
• Fix the feet and beak in place using cooled, boiled water
• Roll two tiny balls of black fondant icing and fix into place for the eyes
All done! This would have been super handy to have in time for Easter but, as a vegetarian, this is the only chick I can eat for the foreseeable future so who needs a holiday to make it?
The Pig
To make the pig, you need to mix white and pink icing to get a lighter colour for the body. Because as the emoji clearly shows, pigs noses are darker than their face.
• After sprinkling some icing sugar on your work surface roll out the lighter pink fondant icing and press out a circle shape for the pig's body
• For the snout, take a small piece of dark pink icing and roll into a small fat cylinder. Gently flatten it down slightly with your finger and round off the ends to give it an oval shape
• Use your ball end tool to press in the nostrils and fix the snout into place using cooled, boiled water
• For the ears and feet, roll out some of the darker fondant icing and use the knife to cut them out by hand and fix to the body
• Make some eyes with two tiny balls of black icing.
The Cow
• Roll out your white fondant icing and press out a circle for the body (bet you're bored of hearing this right?)
• Take two small pieces of white icing and roll each into a short cylinder. Flatten each one slightly then use your ball end tool to indent them. Fix the ears to the body using cooled, boiled water
• Roll a small ball of pink fondant, flatten it slightly using your finger and then indent the nostrils with your ball tool. Stick it in place.
• For the horns roll a small ball of black fondant and flatten it down, then use a sharp knife to cut it into two teardrops. Fix these in place between the ears
• To make the black patches simple roll out some black fondant and cut random shapes using your knife
The Sheep
• Roll out some white fondant icing and, using a large and small crinkle cutter, press out two discs
• Use a small plunger cutter to gently emboss circles across the surface of both discs before gluing them together with some cooled, boiled water
• Make the face by rolling a small ball of black fondant and flattening the top slightly
• The eyes are made with two small balls of white fondant icing with two smaller black balls fixed to them
• Make the ears from black fondant icing in the same way as for the cow
So what do you reckon, easy as? I feel like they should be simple but I'm sure I will ruin it. Why not keep an eye on my Instagram where you'll find out? If you want to have a go at making these yourself, here's where to get Renshaw Baking's fondant icing.
I was compensated for this post but as always, everything I say is 100% my opinion.