If you've read blogs for a few months, you'll probably have heard of Heal Gel. It's a brand which is backed by surgeons and biochemists, and the products are specifically designed to help with all sorts of ailments. I own Heal Gel Face, which is an anti-aging formula designed to smooth and plump the skin, giving youthful and healthy looking skin. I've used Heal Gel for a couple of months now, and it even featured in my beauty favourites. My main quibble is the price – at £48, it's not exactly the most affordable product. Especially if you're a skint graduate like me!
I recently tested out Soap & Glory Be Youthful Serum in my Sample Sunday, and since then I've mentioned it a few times and even bought the full size as I was that impressed with how it made my skin look. Since using it, I've noticed it gives my skin the same plump, healthy glow that Heal Gel does and I decided to compare them and see how they pan out!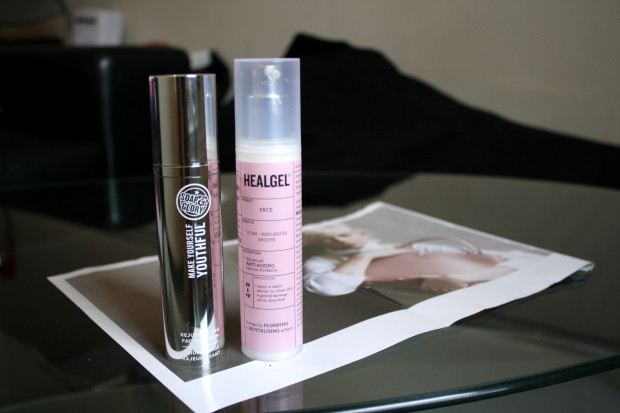 What they claim:
Heal Gel: Anti-aging formula designed to smooth, firm and replenish to give plumper, revitalised looking skin. It boosts collagen, replenishes dehydrated skin and restores elasticity. It contains peptides, liposomes and hyaluronic acid.
S&G: anti-wrinkle serum and moisturiser in one which with boosts collagen, reduces the depth and appearance of fine lines and wrinkles and rejuvenates flagging skin. It contains biopeptides, a special anti-aging complex and a blend of oxygen boosting actives.
Hmm, seems pretty similar so far, right?
Consistency:
Heal Gel: Heal Gel doesn't actually say what type of product it is, but the formula is very serum like. It absorbs really easily into the skin and moisturises, without overloading the skin. I can use this underneath a moisturiser, or on its own.
S&G: the Be Youthful Serum is a little bit thinner than the Heal Gel, but other than that it's pretty much exactly the same. It absorbs quickly, is moisturising enough to be used on its own but works equally well underneath a moisturiser. Because the consistency is thinner, you don't need to use as much as the Heal Gel.
What it does:
Heal Gel: plumps and smoothens my skin, making it look healthy and provides a smooth, hydrated base for my moisturiser and makeup. It also slightly brightens.
S&G: basically the same! It is slightly less plumping, but slightly more brightening. My skin looks equally as healthy, smooth and hydrated. The Be Youthful Serum also has the most amazing, orange candy smell which makes me want to go out and buy orange flavoured lollipops.
Price:
Heal Gel: £48
S&G: £16
I honestly think if you were given both of these to try in a blind trial, the only thing that would give away the difference is the Be Youthful's AMAZING smell. Both products are really good and definitely give a younger, healthier appearance. I decided to do a half and half face test, and Soap & Glory did definitely come out top in terms of brightening, both had a pretty equal smoothening and plumping effect. I've been using my Soap & Glory in the morning, as I find bright skin really helps me to look awake and healthy in the morning, and my Heal Gel at night to nourish my skin after cleansing.
Both the products are amazing, but when it comes to it the price is what cinches the deal for me. I wouldn't go out and pay £48 for another bottle of Heal Gel Face, when I could spend £16 and get Soap & Glory Be Youthful Serum which essentially does exactly the same thing.
Have you tried either of these?