I'm not really sure what I hate more; my cystic acne when I had it, or the scars and hyperpigmentation that I'm left with. It's cruel, really. I spent so long wishing my acne would be gone, to find my skin looked just as bad when it did. The trouble with cystic acne is that the infection is so deep that even without picking, it's likely to scar. I spent ages Googling how to get rid of them and was met with the same, bitchy answers. 'Don't pick your spots', 'nothing just wait' or my favourite; 'prevention is better than treating them'. Erm if I'm Googling treatment, it's probs a bit late for prevention isn't it.
It's been around a year since my acne went and my old scars are quite faded now, although they're frequently joined by new ones from my monthly flare up. Although I do think time is an important factor in healing scars, I know how hard it is to just sit and wait so I've compiled the main products I've tried during the past year and what I think of them.
I've also found two products that actually do help with cystic acne. Of course I found them once it was no longer an issue, isn't that always the way? But for those who still suffer, these products have meant my cysts last around a week rather than a month like they used to!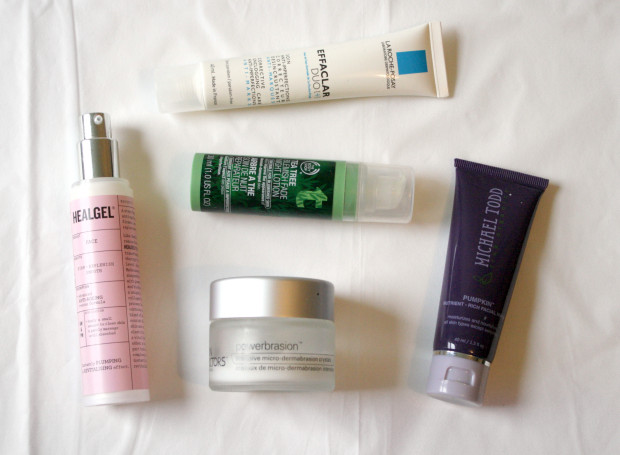 Skin Doctors Powerbrasion
This was one of the first products I got after my acne cleared up. I really wanted to get microdermabrasion, or even a chemical peel but my student budget didn't really allow for it. It uses intensive microdermabrasion crystals which are encapsulated, so as to not damage your skin.
The exfoliating power on this is unreal, and you kind of feel like your scraping your skin off because the crystals are so small which makes me glad they're encapsulated as I feel like it would cause some real damage otherwise. Every time I've used this, I've found my skin looks smoother and healthier. I can't say I've noticed a difference in scarring after each use but because of the overall smoothening effect, they are less noticeable.
This doesn't have an immediate impact on scarring, but regular use buffs away old skin and encourages new cells to grow so I think if you're in it for the long haul, this is a good product to get. Probably best to steer clear if you have sensitive skin though.
La Rosche-Posay Effaclar Duo +
I have never seen so much hype around a product for getting rid of spots and fading scars. After seeing countless reviews on how amazing this was, I grabbed it while my acne was starting to go thinking that it would help speed up the process and get rid of my scars at the same time.
Unfortunately, this didn't work for me. I used it religiously twice a day for the recommended two weeks, and it didn't make any difference to the spots I had when I started, it didn't prevent me from getting new spots and it didn't fade the scars I had. I tried it out for another few weeks but eventually stopped using it as there was no progress. I still have half of it left, I tend to use it now in conjunction with all my other spot products whenever I have a huge spot come up. I don't think it helps but it doesn't hurt to try.
Although I've not got on with this, I know most people do and it's one of the more affordable products for helping with spots and scars so I think it's worth a try. They do have a money back guarantee if it doesn't work, but keep the box or you won't be able to! I threw away the box because I didn't think it wouldn't work, awkward!
Heal Gel Face
After the much hyped up Effaclar Duo + turned out to be a dud for me, I was wary of whether the buzz around Heal Gel was legit but eventually my curiosity got too much and I snapped it up. At £48, this is the most expensive product I own so I had high expectations.
Heal Gel face has such a smoothing, plumping effect on the skin and using it provides almost instant results when it comes to healthy looking skin. It wasn't until a month or so that I noticed any difference with my scars, and even then it was slight. It's definitely a long term commitment for helping with scarring, and the pay off isn't great but I'm glad I bought it as I think it's helped to fade my scarring faster than if I hadn't used it.
In terms of helping to create a smooth, glowing complexion Heal Gel is really good but I've found a £16 dupe! Find out what it is here.
The Body Shop Tea Tree Blemish Fade Night Lotion
Funnily enough, I got this for an out burst of spots I had during that heat wave in summer and I didn't actually realise it was meant to help fad red marks until after. I use this every night and I've definitely noticed it helps shorten the life of small surface spots, although it doesn't make any difference with my cysts.
I haven't noticed much of a difference since using this in my scars, but it helps to catch red blemishes before they turn into proper spots. It's a soothing lotion and doesn't interfere with my normal night time routine so for me, while it's not helped with my scarring it is still a winner for blemish prone skin.
Michael Todd Pumpkin Mask
I won this in a blog competition back when I started blogging. It contains glycolic acid which helps to reduce scarring by weakening the skins cells, allowing new cells to be made. Aka goodbye scars, hello healthy skin. This literally looks, feels and smells like pumpkin puree, although it causes a very light tingling sensation once it's on. My skin does feel look a lot smoother and healthier after using this, but it stings if you leave it on for too long and the ingredients leave your skin more sensitive to the sun so it's not very practical for regular use, so if it does have any magical properties I haven't seen them yet.
The thing is, and I really hate to say it, is that there isn't a magic cure for scarring. There are always going to be products out there to help fade them, but they'll take time and patience. I think a good routine for treating scars should involve exfoliation, at least one product to help with scarring, a good serum or oil (the oil from Vitamin E capsules is supposedly good for scarring) and moisturiser, plus maybe a weekly treatment, but even the best of routines take time to work!
Whilst you're waiting for scars to fade, you can always stick to makeup for concealing and camouflaging them. I am not actually too bothered about my scarring anymore, although I would love to get rid of them eventually I've accepted it probably won't happen for a long time. I will try the odd new product here and there (I really want to get my hands on Trilogy Rosehip Oil!) but overall, I'm trying to focus on just appreciating how far my skin has come rather than focus on how far it has to go.
If you're still suffering from acne, I've found a few products which really help with cystic acne. Check my post here.
What do you use to help with scarring?