I have a confession to make. Before I started reading blogs, I kinda didn't understand high end makeup. Why pay more when drug store brands do fine? I've never been a girly girl when it comes to makeup, and most days I go without so the thought of spending money on makeup never appealed to me, especially when I could spend it on shoes ya know?
Anyway, I've amended my ways and I do get that high end makeup can (although not necessarily always is) be better quality, and I've picked up quite a few high end pieces that I'll use when I do wear makeup. I'm too lazy to review everything individually, so I thought I'd do a mini brand spotlight and review a few Benefit products I have that are quite popular.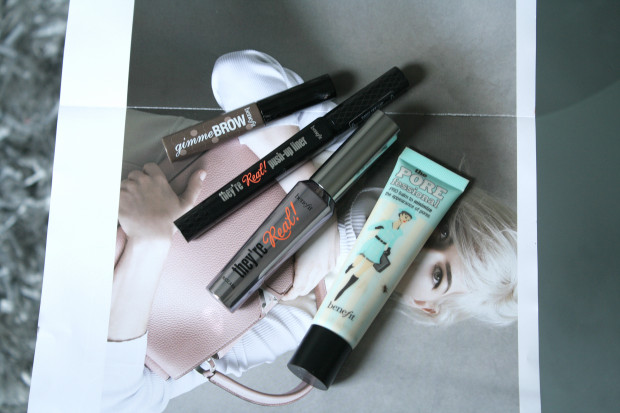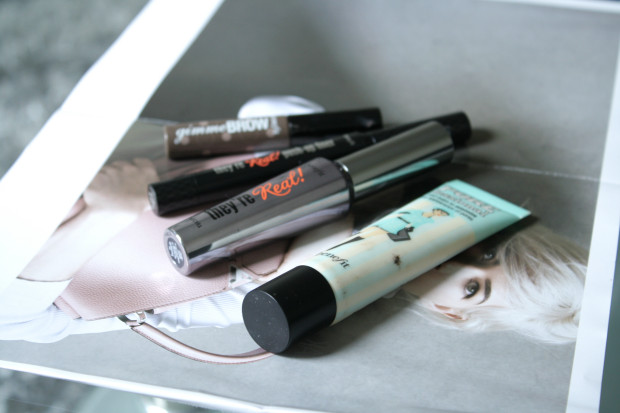 Benefit Porefessional Pro Balm
I am not 100% sure, but I think this may have been the first high end product I got. I got a sample to try and fell in love with it. It's so pore smoothing! And as I'd never tried anything like it before, I was like omgwhatisthis. And rushed out to buy it. Since my initial reaction, I've changed my opinion of it slightly. Whilst the blurring pore effect is undeniable and the finish it gives is amazing, I find this can leave a slightly chalky finish if you don't use the exact right amount or if your skin is misbehaving a bit. I only use this now for when I'm making an effort with how I look, as it tends to go wrong when I'm in a rush.
Benefit They're Real Mascara
There has been so much hype surrounding this mascara so I got it as part of my endless search for 'the one'. The mascara defines lashes nicely and gives a little bit of volume and a little bit of length so it's a good all rounder; I like it, but I'm not blown away by it. I would rather have a mascara that was purely, but insanely, volumising, or the same with lengthening. It is a good mascara for day to day wear, as it gives a natural looking but defined lash.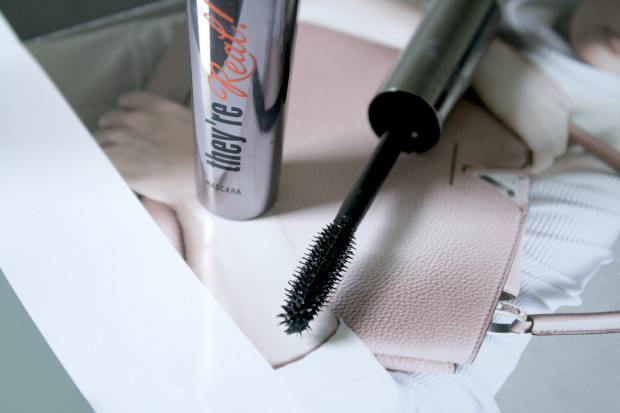 Benefit They're Real Push Up Liner
I love this eyeliner! I can get this so close to my lashes that you can barely even tell I am wearing it, as it just looks like the base of my lashes are super thick and gives the appearance of amazing lashes. For me, this is ideal because my eyes are quite hooded and wearing thick liner really makes it obvious. I'm normally rubbish with eyeliner but I can control this quite easily!
I have to warn you, the nib dries out between every single use and you have to wipe it off. I don't know about you but when I spend £18.50 on a product, I don't want to be wasting a bit every day. That being said, I think for me the product itself is so good I can look past this.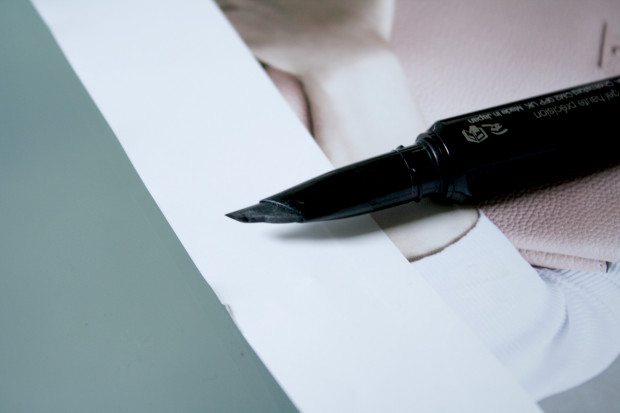 Benefit Gimme Brow in medium/deep
I actually have quite thick and dark brows, so on days where I want low key makeup powder can be a bit much and I figured maybe this would be the answer. It's basically a teeny tiny mascara for your brows! If you have brows that just need a tad of colour, this is perfect as it darkens your hair and makes your brows look more filled in. If you need to add shape or fill in a lot of patches, I don't think this will be for you.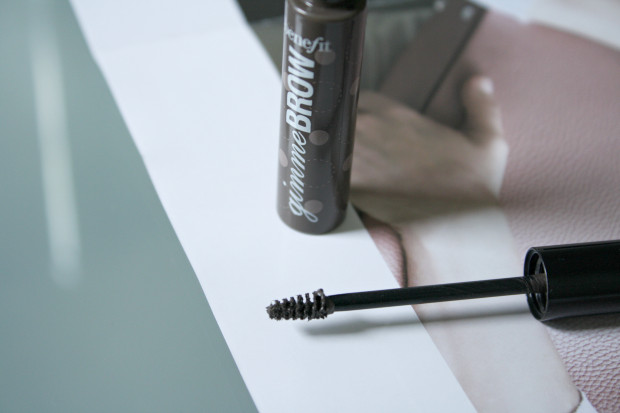 I don't know what it is that appeals to me about Benefit (and let's face it, something clearly does because I've accumulated quite a few of their stuff in such a short time!). I think it's the quirky personality behind the brand. I love their presence on Twitter, and I feel like every product kind of has a little cute story that it tells. Some of the products are more edging to good rather than amazing, but overall I think if you're a high end brand newbie they're definitely one to try.
What Benefit products are you loving? Let me know in the comments!