I'm really low key when it comes to makeup. As in, most days I don't bother wearing it. I'm really not used to getting up and being ready for 9am every day and if I'm tired, I'd rather go in bare faced than get up early to do my makeup. When I do have the spare odd 10 minutes, I keep my makeup minimal just so that I don't give anyone I work with a shock. You know, that whole "wow you look nice today" versus "oh you look really ill today" makeup versus no makeup thing.
I've seen the five product tag going around for a while and I realised my standard work face is only five products, so I decided to jump on the blog wagon.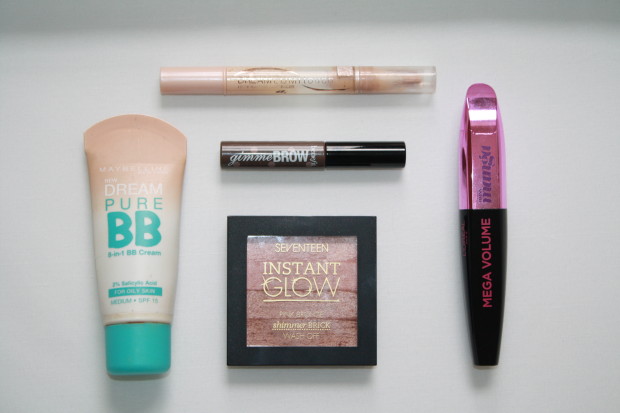 Maybelline Dream Pure BB Cream
I don't like using foundations on a daily basis as I feel like they clog up my skin, so for day to day use I go with BB creams. They're also a lighter coverage, which is perfect for days when I'm in a rush and don't want to test my blending skills. I've literally just ran out of this BB cream, but I do love it and when I'm done with my spending ban I will be rebuying. You can read my full review here (it was a pretty early post so don't judge it!)
Benefit Gimme Brow
I'm lucky with my brows as they're naturally thick and dark so I don't need to whip out my brow palette on a daily basis. I do like to touch them up a little just to ensure they really do frame my face and I find Benefit Gimme Brow is perfect for doing so. It's like a tiny brown mascara wand that you swipe over your brows and it darkens and thickens each hair with minimal effort and time.
Seventeen Shimmer Block
I'm starting to get into the hang of a good contour but it's just not something I want to be dealing with at 8am, so I tend to just brush a little of my Seventeen Shimmer Block over my cheeks, nose and forehead for a brighter, glowing complexion. You can read my full review here.
L'Oreal Miss Manga
I really disliked this mascara at first, but as the formula has dried it's gotten a lot better to work with. I accidentally picked it up in purple so I don't wear this out when I want black dramatic lashes (for obvious reasons, ha) but for day to day shenanigans it's fine. It gives a little bit of length, a little bit of volume and a little bit of curl so it's a good all rounder, making it perfect for a quick application.
Maybelline Dream Lumi Touch Highlighting Concealer
This concealer isn't as old as it looks, but it has been battered around at the bottom of my makeup bag for a while. It's a two in one highlighter and concealer, meaning it's perfect for both my under eyes and any red angry spots I might have. It's a similar style pen to the YSL Saint Laurent and the formula applies and blends in well, meaning I don't have to spend ages working it in.
My five product face takes about 10 minutes to apply and basically just stops me looking like I am on my death bed. When making an effort, I tend to put in a few more steps and use different makeup products as I can spend a bit more time working them in.
What's your every day makeup routine?