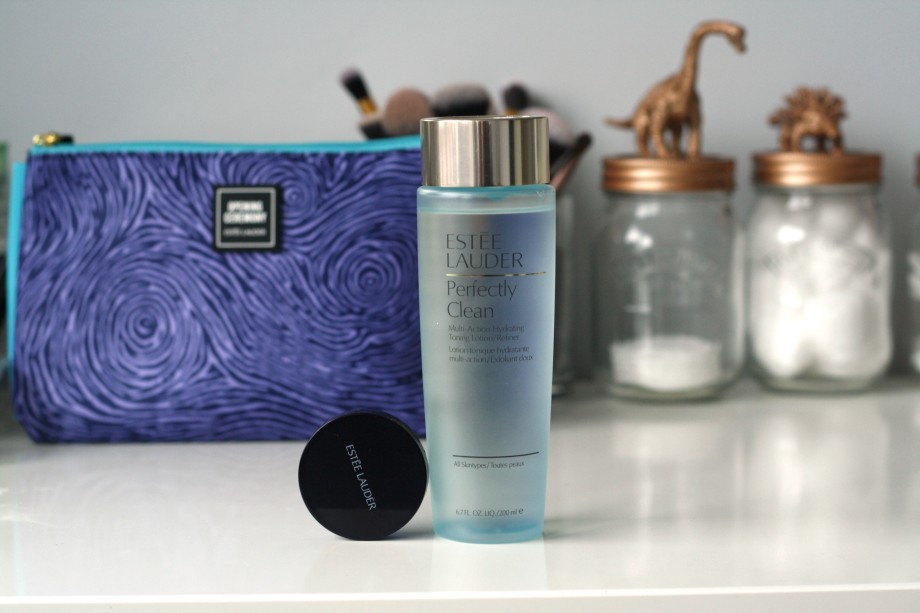 So, most of you (I hope!) know that I used to have cystic acne and as a result, I have some pretty ugly scarring and hyperpigmentation on both my cheeks. I was uh-ming and ah-ing for ages about getting Estee Lauder Double Wear foundation as I'd heard it's good coverage but was scared about potential cakey-ness. I ended up buying the Double Wear Light after speaking to an Estee Lauder consultant lady (you know, the ones behind the counter – what are they called?) who said my youthful skin didn't need the full coverage. Wooo. It's a good foundation, and I can see what she means because apart from my scarring, my skin is pretty damn good and doesn't need covering up.
I was bobbing along, all happy with my choice when I borrowed my friend's Double Wear foundation. Seriously, my skin had never looked so clear! But that's not to say it's without its flaws. First off, it dries really quickly so if you've not rubbed or buffed it in within seconds, you're not going to be able to. It's also unbelievably matte, which isn't a look I'm a fan of. I prefer the slightly dewy look as I think it makes my skin look more radiant and healthy.
Rather than ditch my lighter version, I decided to go for the Double Wear Concealer in the hopes that it would successfully cover up any trouble areas, without making my whole face look overly made up. The day I went in, House of Fraser were doing a deal where if you bought two products, one being foundation or skincare, you could get a free gift. I didn't really need foundation or skincare but I really wanted the gift (I mean, look at it!) so I bought some toner.
Estee Lauder Double Wear Concealer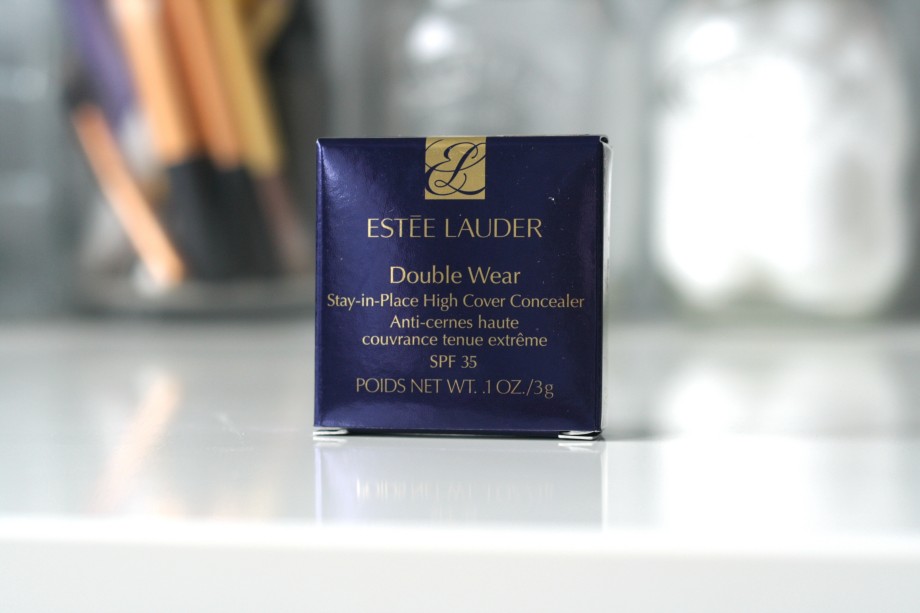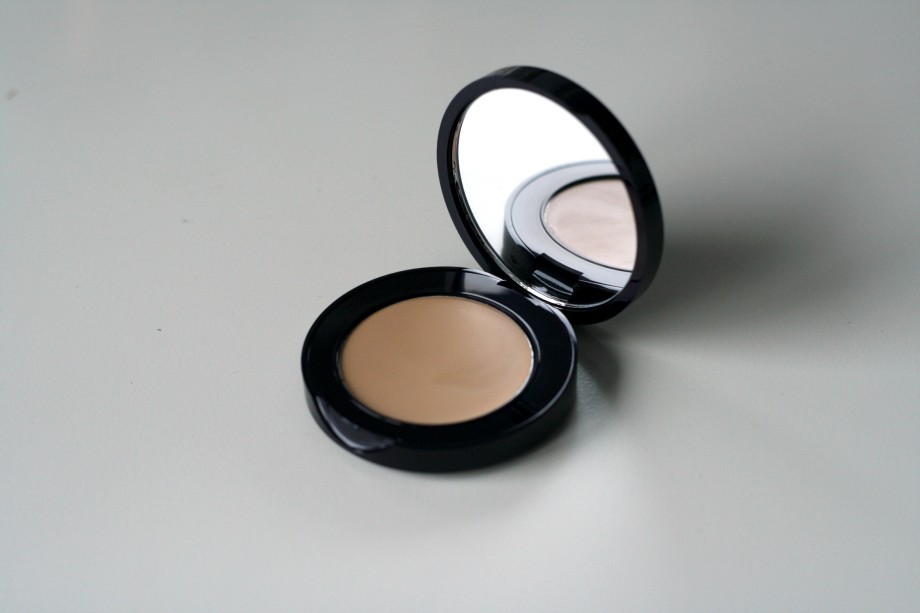 I actually had to get the concealer in shade 1, the second lightest which is a step up from the lightest shade I have in the foundation. It comes in a little black compact with a mirror, and the product itself is technically a cream consistency, but it's not that creamy. It's actually pretty solid, which means it needs the warmth of your finger to apply it – no brush will tackle it as effectively. In terms of coverage, this concealer is great. It easily copes with the discolouration in my skin, whether that's a spot itself or scars. It is quite matte compared to other concealers I've tried which means it can stand out against my foundation, so I find it's best to use sparingly.
Overall, despite the fact that it's slightly difficult to apply and is quite matte, this is definitely the best product I've ever used when it comes to covering my scarring. At ÂŁ22, it's pricier than your average concealer but if you suffer from bad skin (and the self-esteem issues that come with it), give it a go.
Estee Lauder Perfectly Clean Toning Lotion/ Refiner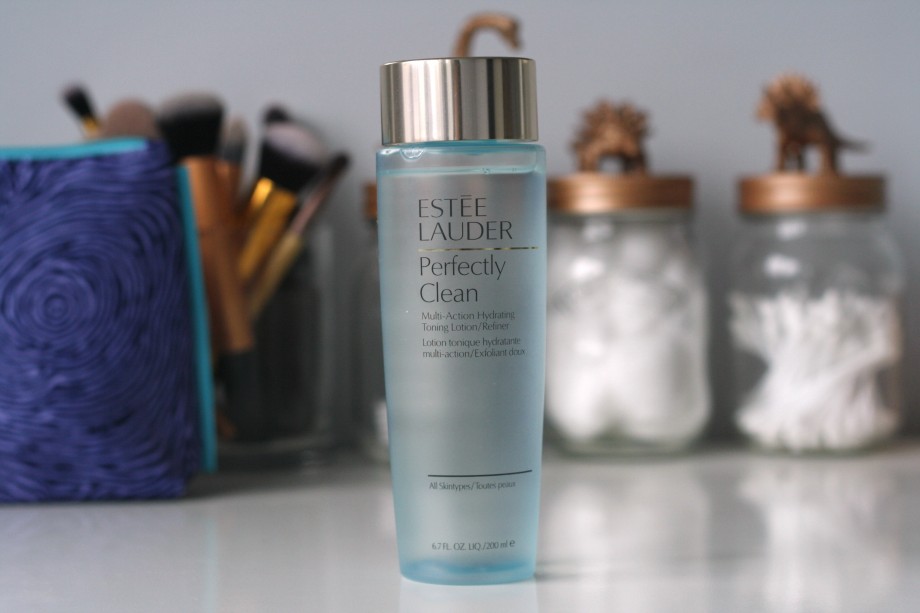 Although I picked this up because of the deal, I was quite excited to try it. It's classed as a 2 in 1 toning lotion and exfoliator: the toner side balances the skin and the exfoliator removes dead skin cells. I've been using this for a couple of weeks and while I do like it, I don't think it's amazing. I use this every morning and night without my skin feeling tight or dry, which is definitely a bonus as a lot of toners are too harsh on my skin, but there's not much else it does.
I guess it depends on what you want from a toner: most people are happy for a toner to just remove any last trace of makeup or dirt after cleansing, and to smooth down their pores. I prefer toners which will help to tackle my scarring via some form of chemical exfoliant or acid. Â While this does say it exfoliates, the fact it doesn't shout of any ingredients which do so. Maybe in a few months time I'll see a noticeable difference, but I still doubt I'll be repurchasing.
Free Gift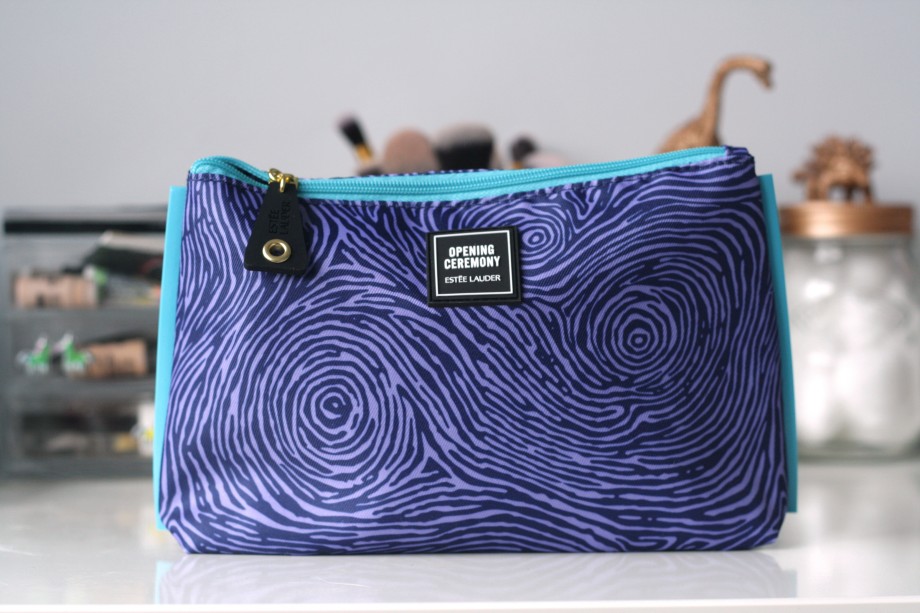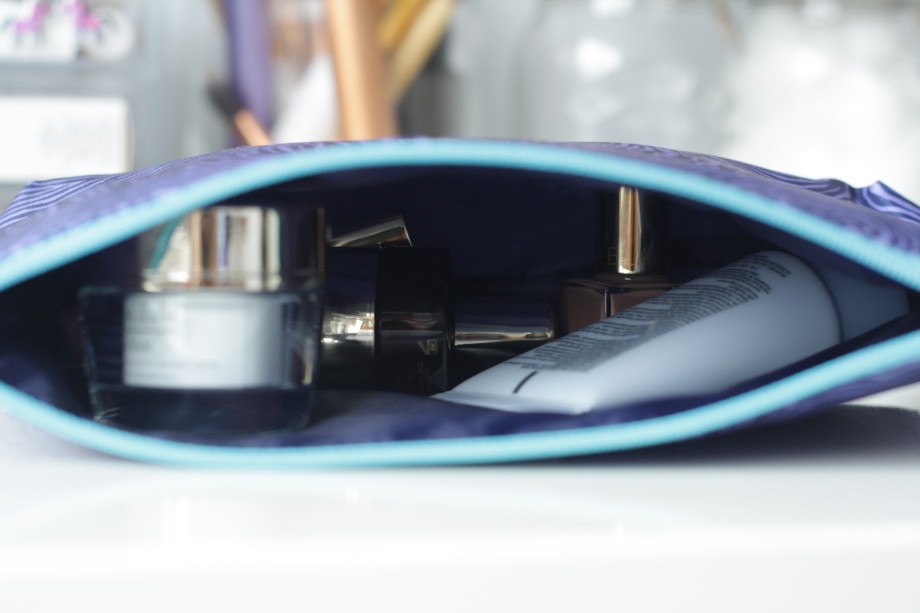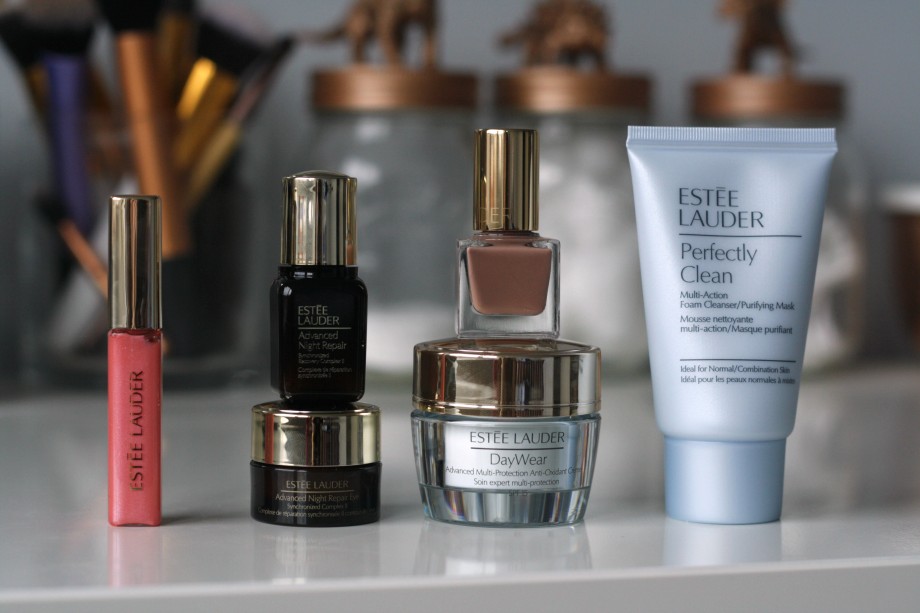 What it contains:
Sample size Advanced Night Repair Eye Serum
Sample size Advanced Night Repair Serum
Mini Perfectly Clean Foam Cleanser and Purifying Mask (to match my toner!)
Sample size Day Wear Moisturiser (choice of two to pick from)
Mini Pure Colour Lip Gloss
Mini Nail Varnish
Sample pots of lipstick and Double Wear Concealer
Makeup bag
So you can see why I had to go for the deal and get this gift right? Not only do I absolutely love sample sizes, these are really generous sizes and mean I can get an idea of other skin products I might want to get in the future. So far, I'm really enjoying both the serums but not such a fan of the Day Wear moisturiser. After using The Body Shop Vitamin E Sorbet for so long, I'm not a fan of thinner liquid consistency moisturisers. The nail varnish is gorgeous, a velvety deep nude which I will be using again and again.
What have you been buying lately? Have you tried any of these?