I'm actually starting to get to the end of my samples stash! I still have a few left to pick at, enough for a couple of months, but I'm nearing the samples that I've been nit picking around the whole time. Awkward! It's been a fun series, although the majority of it (like today's!) has been written up on Saturday night with my hair up and PJs on. That's what I like to call prepared.
I think when the series is over (sob) I might start using Sunday to look at a few things that have made my week positive. I can be quite a moaner, so it would be nice personally to take a more positive spin on things! What do you think? So this week I loved finally getting my #AAASecretSanta, my new iPhone case being delivered, going out for dinner with Scott and making myself go to the gym to do weights as well as my marathon training.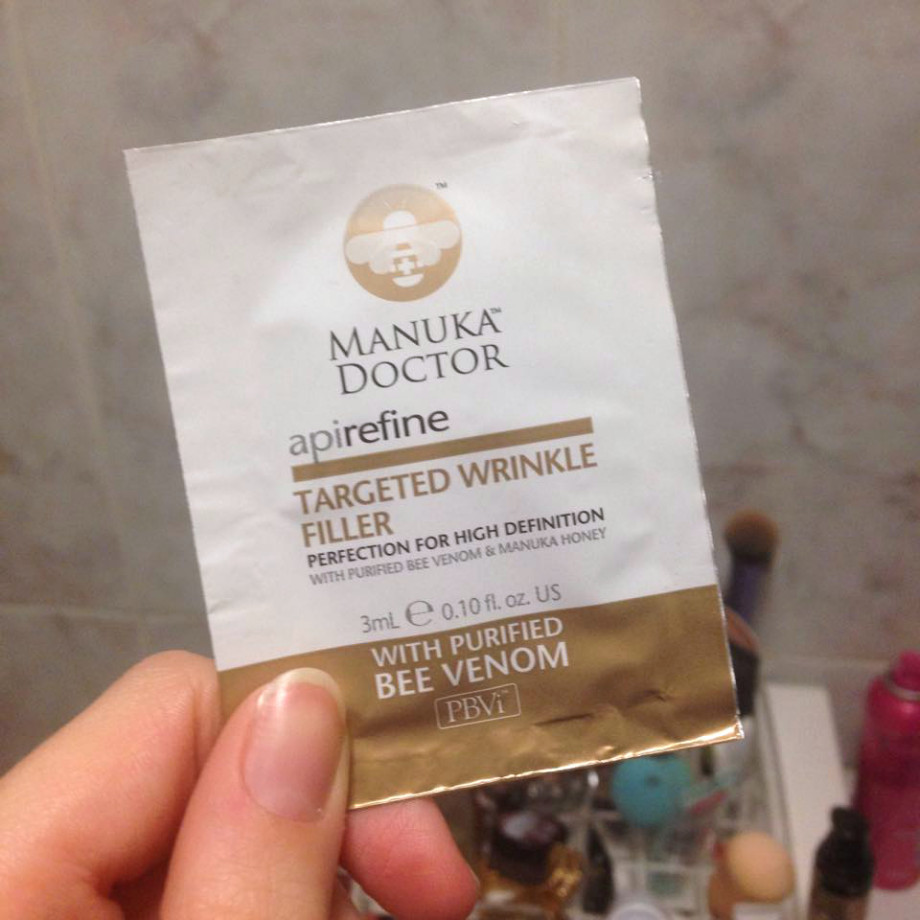 This week's sample is Manuka Doctor apiRefine Targeted Wrinkle Filler. You know, for all my wrinkles and that. This is what Manuka Doctor says about it:
- Instant tightening and firming sensation when applied
- Fast acting ingredients
- Helps reduce appearance of fine lines
- Clinically tested formula helps to reduce the signs of aging
- Age-drying
It contains honey and purified bee venom, and to use you smooth a fine layer on wrinkle prone areas.
First things first, the smell of this is not that great. It's actually quite chemically smelling, considering that the emphasis is on natural ingredients honey and bee venom. It's not really an issue once applied though. It's a similar texture to a serum, and you only need a tiny bit to cover your wrinkle prone areas.
After applying this my skin did feel a lot smoother, you know when you just want to run your fingers over your face? That kind of smooth. I didn't really see an improvement in tightness but to be honest, my face isn't loose. I used my TBS Vitamin E Sorbet moisturiser afterwards and the combination made my skin silky soft. Even more touching my face with my fingers to make the most of it.
I can't recommend this on its age defying properties but for smoothing out your skin, I love it! I know it's only meant to be used on the wrinkle prone areas but I want to use it everywhere so all my skin is baby soft! It's not particularly cheap, £14.99 for 15ml which is quite small but you barely need any in the first place, and you only use it on a small part of your face so it would probably last a while!
I've tried a few Manuka Doctor products in my Sample Sunday series, and I actually really like the brand from what I've tried. They're not the cheapest, but they do really do have impressive short term effects so I think using them long term would definitely benefit your skin!
You can pick it up from their site here if you fancy it for yourself.
What have you been sampling lately?