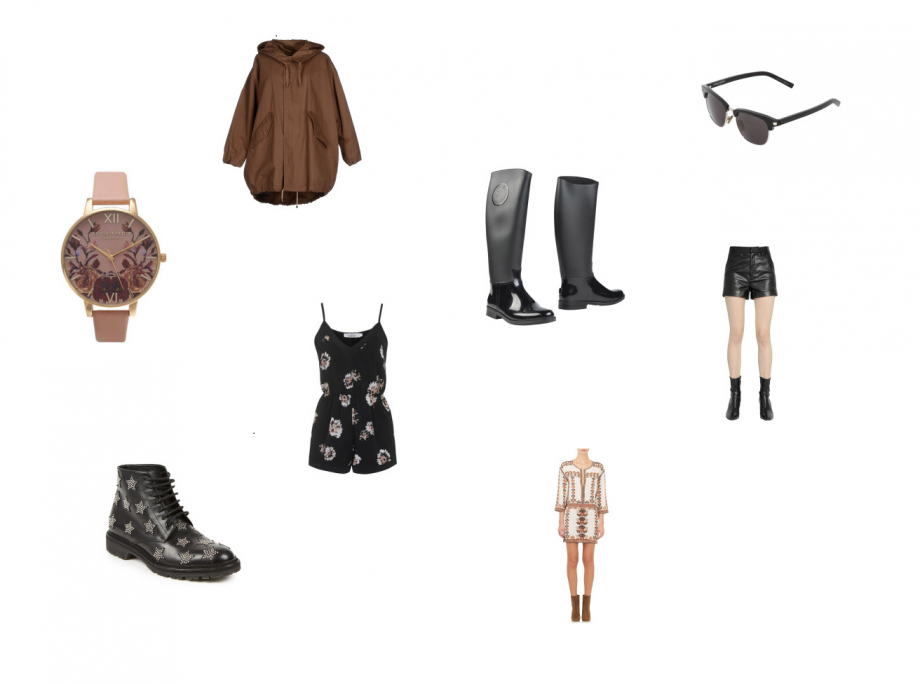 It's just been Isle of Wight festival, one of my favorite festivals (partly due to the fact it lands on my birthday, partly because its just super chilled out) and Glastonbury is just around the corner, meaning I'm getting a mega case of festival envy. One of my favorite things about festivals is the festival fashion. Boho, carefree, hippy and chilled out – just the epitome of sun, music, friends and Pimms (of course). Just because I'm not going to a festival this year doesn't mean I don't want a whole wardrobe of festival clothes and that's where this wishlist comes in. I recently collaborated with Lyst and tried out their website which can be used to find fashion inspiration, save it to 'lysts' and even shop them straight from your boards. It's really easy to use and if Pinterest and online shopping had a baby, this would be it.
I've actually got a few more items on my Lyst but I haven't included them in my collage as they aren't cut-outs and I didn't want bordered pictures on this as I hate breaking up clean collages! But you can see my full festival Lyst here, which is a good option if you want to actually shop any of these! The Olivia burton watch, black playsuit and parka jacket are both from Topshop, the wellies from Emporio Armani (and cheaper than Hunters say whaa?), the glasses, star boots and leather shorts are all from Saint Laurent and the kaftan dress is from Isabel Marant.
I normally have quite a grungy festival style which you can see in the black black black thing going on here, but recently I have been loving the hippy kaftan trend that was big at Coachella. I actually bought myself one from H&M which is really nice and has been perfect for my holidays but this Isabel Marant one is stunning. I love how tailored the shape is and how structured and clean the actual design is.
If you are into making fashion wishlists, I would definitely recommend checking out Lyst. The website is really easy to use; you can either just browse the men's, women's or specific clothes categories, or you can search for brands or products you want, or you can read through the blog posts on their LongLyst section if you want What I Wore style inspiration posts. It's also a great tool for finding new brands – I normally stick to good old ASOS, Topshop etc but thanks to Lyst I am now a big fan of Nasty Gal and will be spending my next pay on there! If you can afford to buy high end designer clothes, it will also enlighten you to loads of new season stock. Unfortunately for me my budget doesn't allow! But a girl can dream right?
How do you normally get your wishlist inspiration?