I see a lot of bloggers who started their blogs so they had an outlet to talk about things they love without boring the pants off their loved ones about things they aren't interested in, but I work the opposite way. It's only after sending Scott millions of things I wanted in our new room that I decided I should just blog about it (and obviously send him the finished post).
When I talk about my new room, I get so excited people are like oh I didn't realise you were moving, what's it like? It doesn't technically exist yet, I'm just so excited about the possibilities. My room at the minute is small (like we can't actually fit the wardrobe in) with blue patterned carpets, light blue walls, the worlds smallest windows, and purple furniture. Not to mention the cracks in the walls. I have probably unrealistic hopes for my new room (white wooden floors, white walls, masses of space) but I'm happy to settle for neutral walls and carpets, and enough space for wardrobes and a desk (or dressing table eek).
Obviously, my lack of knowing what my room will be like hasn't stopped me from planning every single aspect of it. There's not a chance in hell I can afford to get everything on this wishlist, but it's given me a good reference of the room I would like and means I can start finding dupes and building up key pieces – I'm looking at you, pineapple lamp. If I win the lottery, I will be getting everything on here and more, but for now it's just a poor girl's dream. Literally.
Soft furnishings

Duvet set / Rug / Banana Cushion / Doughnut Cushion / Everything's Okay Cushion
Does this not just look like the cosiest of beds? Urban Outfitters are killing me. I've found bedding on eBay that, whilst isn't identical, has a really similar vibe to this and is half the price so I'm buying that until my lottery win.
Furniture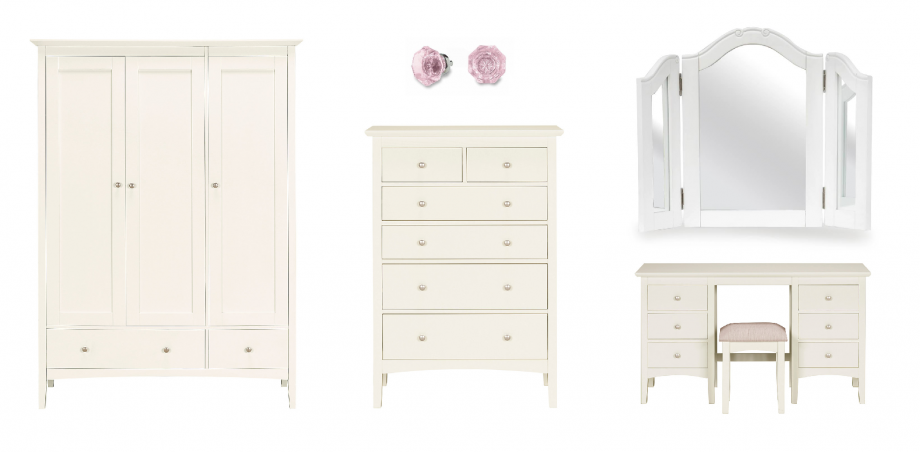 Wardrobe / Drawers / Dressing Table / Glass Handles / Mirror
In reality, I'll be going to IKEA for my furniture for a long time to come but  this wardrobe, drawers and dressing table from M&S is just beautiful, and matches my bedding perfectly. I found these pink glass handles which ties the whole look together, and obviously I'd need a dressing table mirror to do my face in the morning, although these aren't an exact match so I'd have to paint the mirror. Or Scott would anyway..
Accessories

Stag Head / Hanging Mirror / Pineapple Lamp / Micro Fairylights / Diamond Wall Stickers / Wooden Vases Trio / Ciao Bella Wall Art / Map Wall Art / Get Shit Done Wall Art / Say Cheese Wall Art
I figured with my theoretical all white room, I would need some cute and vibrant accessories to go with. I'm not 100% sure if I'd ever get the stag head, I just think it's cute and would be good for hanging jewellery off. The mirrpr and pineapple lamp are definitely the star players here, but I think everything goes together quite well and gives the room focus without being too much.


Do you not think this would just be the most beautiful room? I'm dying thinking about it again! It's a very girly room but it's been given the thumbs up by Scott, which is a wise choice on his behalf, so the task now is to get as many of either a) these items or b) cheaper versions as possible before July, so that when IÂ move into my new house and room it's super pretty.
What would your dream room be like?