I was really excited when I first discovered how much of a difference it made to use makeup brushes over hands. That is, until I realised I now had to add cleaning them to my list of things to do each week. What a drag, right? I don't know how foundation is so stubborn to remove but a week's worth is ridiculously hard to get off with shampoo. I have the e.l.f. Daily brush cleanser (a spray you use each day to disinfect your brushes) which means I don't need to worry about nasty bacteria in between uses, but it doesn't get rid of any of the nasty gunky makeup residue.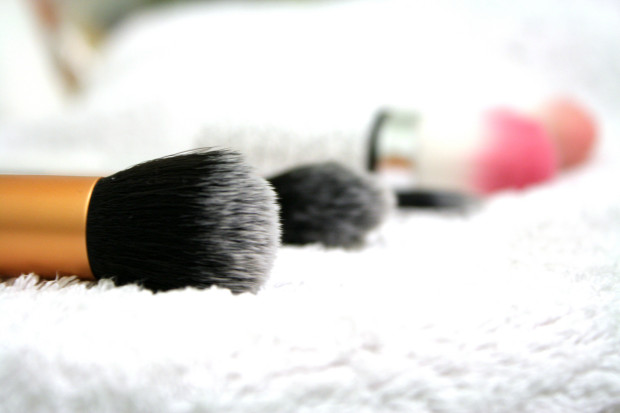 I wasn't really sure what to wash them with at first, so I tried a few things. Hand soap and shampoo worked okay, but took a lot of hard work and repeated washing to get rid of everything, which made me worried about the damage it was doing. Washing up liquid got rid of it quite well, but it's such a harsh cleaner that I didn't want to carry on using it.
I went on a hair detox, which made me think about trying baking soda to clean my brushes. It worked well if I left the brushes to soak, but because baking soda water is a water consistency, it was really hard to work it in to clean the brushes.
At this point, I was pretty fed up, but I was on a spending ban so couldn't go out and buy a cleanser. I found some castille soap in my cupboard (I bought a bunch of natural ingredients once, haven't used them since!) and decided to try that. Castille soap is a natural soap derived from olive oil, so is much less harsh so I wasn't worried about it damaging my brushes.
Luckily, castille soap works extremely well. It's so cheap too, you can get a LITRE of it for under a tenner! And you only need a tiny bit each time, so it will probably last forever. If you want it, get it here.
Anyway, here is how I clean my brushes. I hope you like me waffling on, as I am incapable of not doing so.
1. I put around half a teaspoon of castille soap into a small bowl, and then fill it up with warm water.
2. For each brush, I dip the ends in (avoiding getting the water up to the handle as I don't want to wet the glue) and then rub in the water to make sure each fibre is wet
3. Once the brush is wet, I pour a teeny tiny amount of castille soap straight on to the brush, dab it and rub it on gently so that I've definitely got the whole brush soaped up, and then I leave the brushes for a second while I replace the soapy water with clean water
4. Finally, I rinse each brush thoroughly in the clean water. I'll run my fingers through each brush to make sure there is no makeup hiding, and to ensure there isn't any suds left.
5. Once I'm sure they're definitely clean, I'll gently squeeze the water of each brush, shape the brush and then lay down to dry overnight on a clean towel.
I wish they'd just invent a self cleaning brush, as it's such a faff to do. I only use a few brushes regularly so when I do finally get around to doing it, it doesn't take long but it's such a pain in the arse getting round to it! It feels so nice when they're freshly cleaned though.
What do you use to wash your brushes? Let me know in the comments!