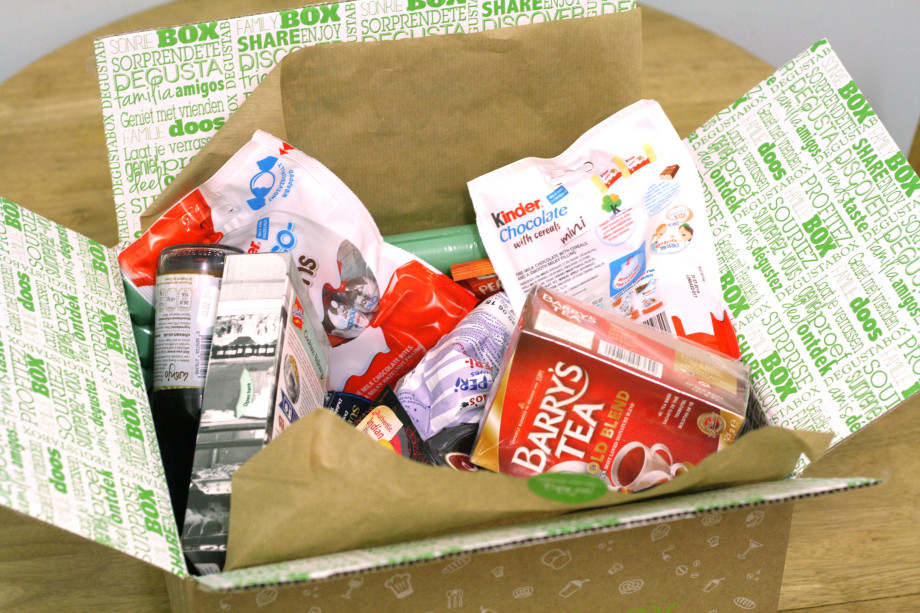 Another day, another Degustabox* – a food subscription box which enlightens your home to delicious food, most of which is new releases, each month. April's theme is International food and man, it's definitely my favourite so far. It's got some good looking meal options, some delicious snacks, and some drinks. Ding ding; on to a winner!
Veetee (2 x £1.49)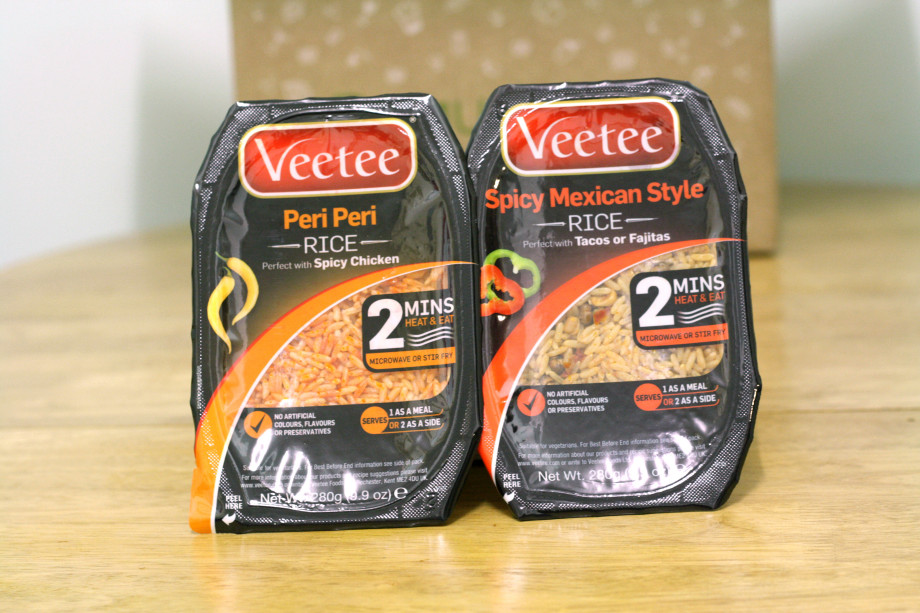 I actually have Veetee rice already for when I am really low on time; I only have brown rice otherwise and it takes 45 minutes to cook! There was three options you could get in your Degustabox; Peri Peri, Mushroom and Spicy Mexican Style. I got Spicy Mexican and Peri Peri, both of which I'm excited to try! There was a few recipes included with the box with ideas to use the rice in a more creative rice and meat way, I think I'll use my Spicy Mexican rice in a burrito. Not sure about the Peri Peri one yet though. If you've got suggestions, feel free to tell me!
Nando's Grooves (3 x £.069)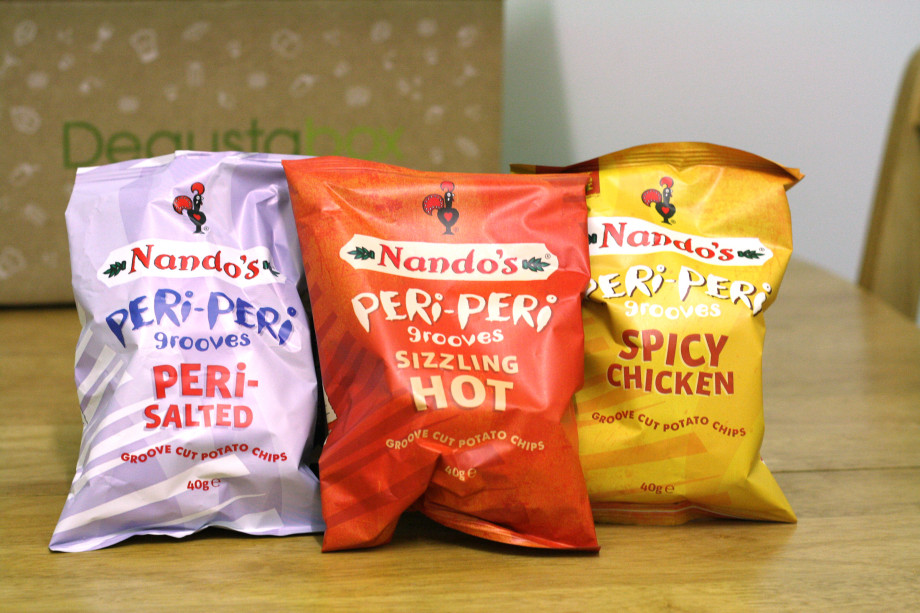 Speaking of peri peri, I was incredibly happy to see these bad boys in my box! Nando's crisps are already fabulous so to see they've released a new range of ridge cut crisps in three flavours is fab. Scott got all smirky when he saw these and thought I couldn;'t have any but no fear, they are vegetarian friendly and he's banned from them.
Kinder Chocolate with Cereals (£1.55), Kinder Choco-Bons (£1.55)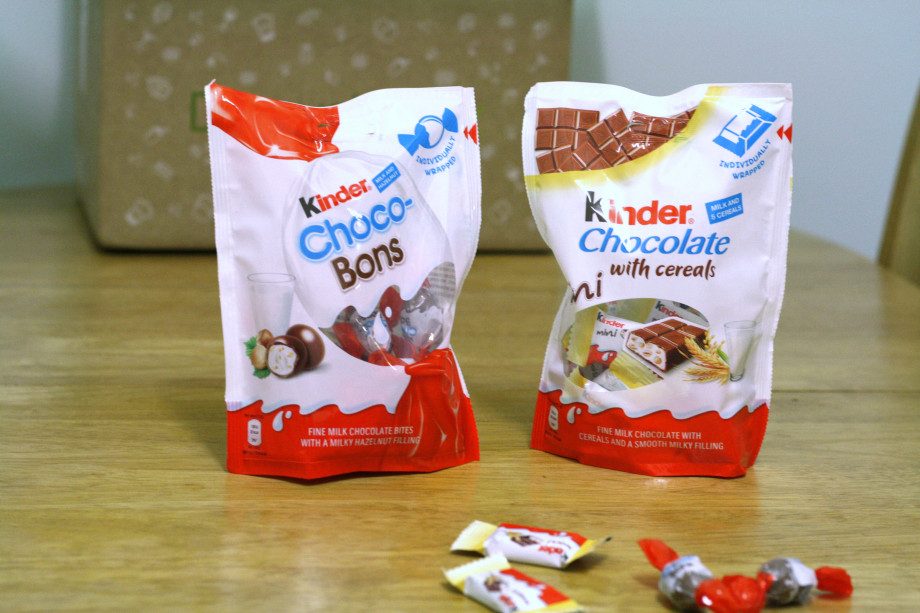 Kinder chocolate is probably one of my favourites. It's such a sweet, mellow flavour that takes me back to being a kid and living off Kinder Surprises. I've had and loved Kinder Bons for a long time; they're the epitome of what a chocolate snack should be. They're also incredibly hard to find in shops so I am very happy these were in my box. The Cereals version is also really nice, and basically healthy with the five cereals they contain, right?
To give you an idea of how delicious these both are; I wanted one and hadn't taken a photo so I carefully made an incision in the back so I could pull out some bons without ruining the packet. Sneaky.
Schwartz (2 x £1.08)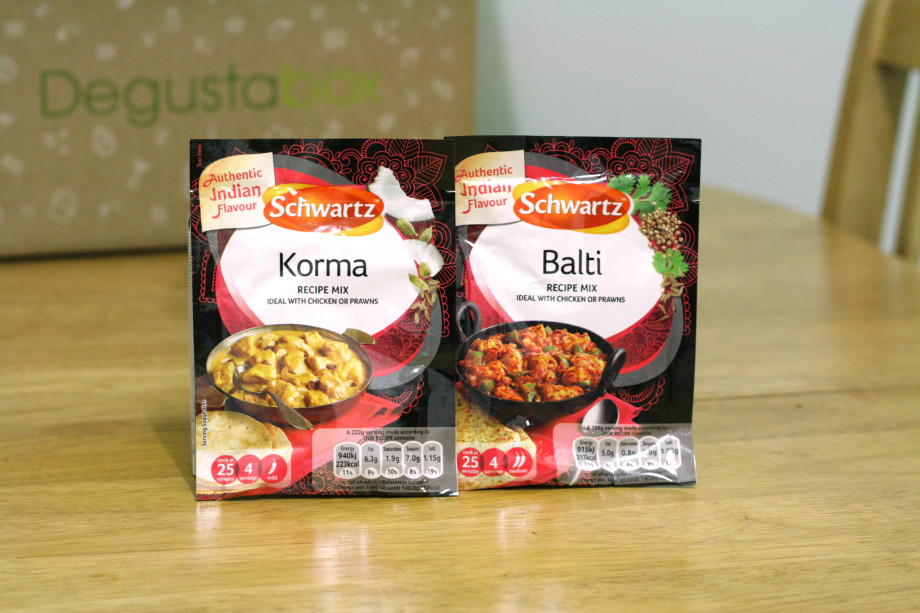 These curry flavour packs are actually a new range by Schwartz. I've tried their other ranges and they all taste great, and I love curries so I can see myself really enjoying both of these. When I was at university I swore off anything that helped cooking because I had all the time in the world. Now I work full time, little mixes like this are a saviour for tired evenings.
Cirio Tomato Fillets (£1.60), Curio Double Concentrated Tomato Purée (£1.20)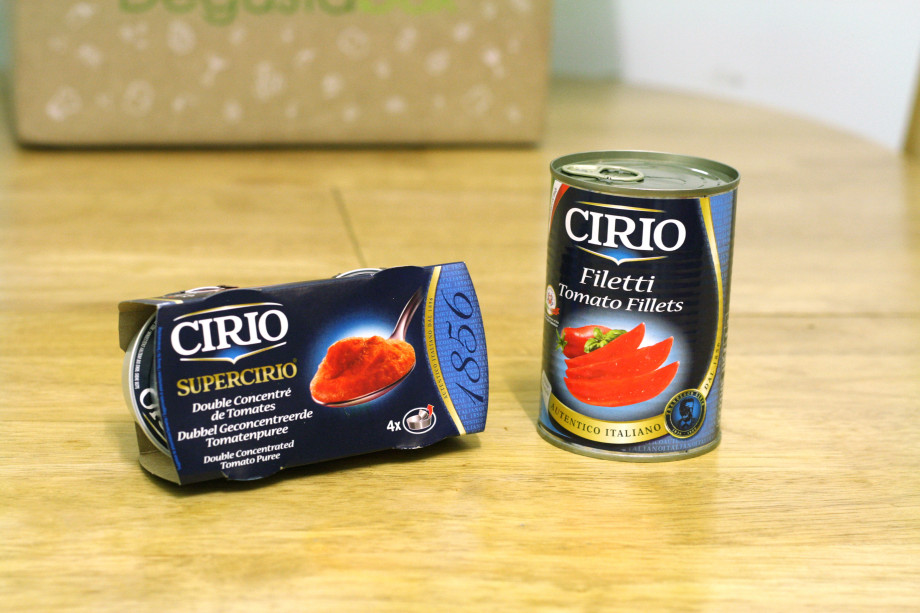 I always have tomato purée and tinned tomatoes in my cupboard as they can make anything. Bolognese, curry, barbecue sauce; anything really. Tomato fillets are definitely a new concept by me but I love roasted tomatoes and chunky tomatoes so I'm looking forward to using these (potentially with one of my new Schwartz curry mixes), and double concentrated purée sounds like it'll have a great impact on flavour. Plus the convenient little portions means no worrying that the tube will go mouldy in between uses!
Barry's Tea (£1.75), Debeukelaer Cookies Bakery (£2.00)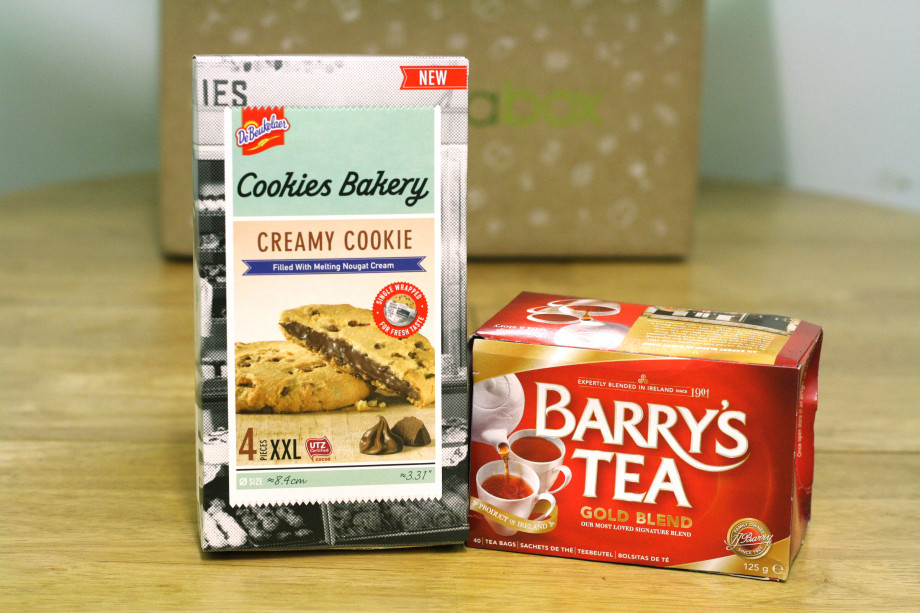 As a strictly green tea drinker, it can be such a pain when people come round and ask for tea and I'm like… Would you like your tea green by any chance? So it's nice to have something to offer now. Although I can't offer my advise on tea (I've not had a cuppa in three years!), Barry's state their signature Gold Blend has been perfected and passed through generations. Sounds all good and lovely.
The cookies look amazzzing. Like, seriously good. Wrapped individually for both freshness and a long shelf life, they have a creamy nougat centre which sounds fab. I've not tried one yet but I can't wait for this little treat.
IDrinkQ (2 x £1.49), Scheckters (£1.35)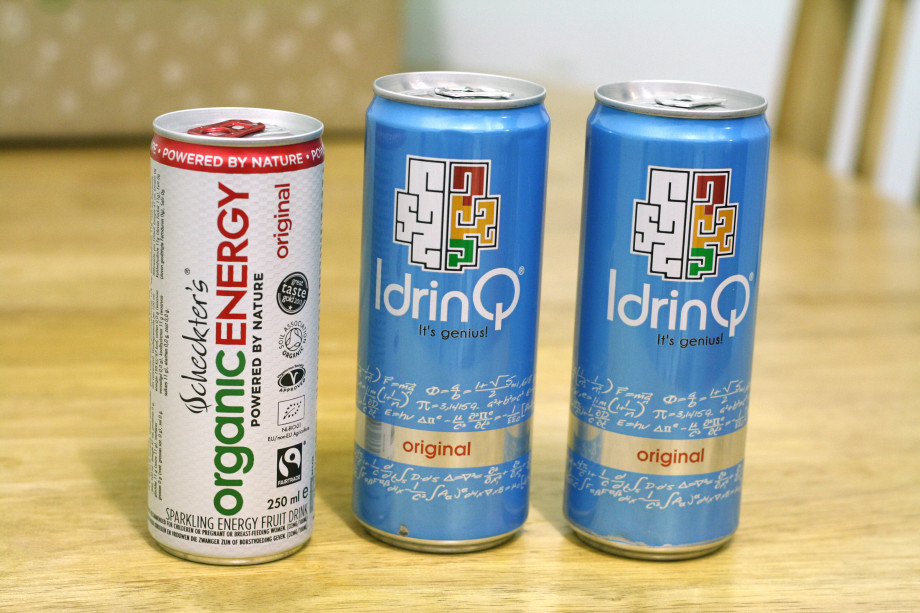 I'm not really an energy drink fan but as Scott is, these will definitely get used. The Scheckters actually looks nice and a big step up from the Red Bull copycats Kick I used to have in my vodka when I was a young teen; 100% natural, organic, Fair-trade, vegetarian, not to mention soil association and informed sport (whatever those two may mean). It's ingredients include organic raw cane sugar, organic pomegranate juice, an organic blend of green tea, green coffee and so on. It actually sounds refreshing!
IdrinkQ is apparently a new generation drink that helps you to think smarter, generate ideas and creativity etc… If you ask me, that's a pretty good marketing of an energy drink, as all caffeine increases your mental stimulation and does those things. Maybe I'm cynical as I work in marketing, maybe not.
Kingfisher (£2.00) OR Wonjo (£2.50)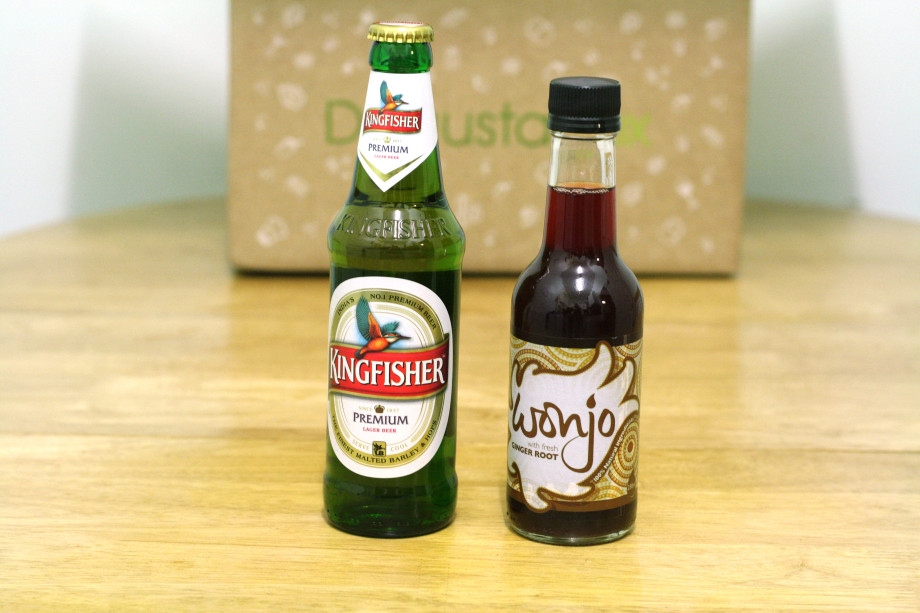 In Degustabox, you can opt for either an alcoholic or non-alcoholic version. The alcoholic version in April has Kingfisher Premium Lager. According to Scott, this is lovely. I'll take this word for it.
The non-alcoholic version is Wonjo Hibiscus with fresh ginger root. I'm not overly fond of ginger but this sounds a lot nicer than your average ginger beer!
If you're interested in getting a Degustabox of your own, you can use my code CM2K1 for £3 off your first box, bringing it to just £9.99! The contents are worth around £23, making it a bargain with or without the discount code.
What do you think of this month's box?